"Inspiration can be gained from anywhere; you just need to be on the lookout for it."
Gabrielle Omar has carved out an enviable career in business, architecture and design. Always an on-trend entrepreneur, Gabrielle has, in her own words, "opened a fair few companies". In some quarters she is best known as a successful candidate on The Apprentice, becoming the first architect on the show back in 2012. In others, she is known as a leading architect looking to redesign her field through companies like Spot This Space and Tea with an Architect.
Here she shares her thoughts on Spot This Space, her favourite project to date and her, sometimes contentious, design inspirations.
What first sparked the idea to create Spot This Space?
"I am a fully qualified architect, so design and construction have always interested me.
"I've always enjoyed being my own boss and over the years have opened a fair few companies, which have allowed me to do that. This list includes a print shop – which I designed to transform into an evening art gallery by making all the desks fold into the walls – an online sweet shop called Daily Dose, and a travel accessories company called Carry-OnBeauty.
"I realised through experience that my passion is creating brands and coming up with initial concepts. That, along with my architecture experience, led to Spot This Space. I'd like to think that we brand spaces for our clients; we take the clients brief and turn spaces into something that best advertises their vision."

How has the business evolved since its first year?
"Since our first marketing suite in Surrey Quays for Barratt Homes in 2013, we have undertaken more than 20 marketing suites, various offices design and fit-outs – including Barratt HQ in Beijing – numerous show flats and have even started undertaking high-end penthouses. Work has more than doubled year to year, as well as our client base, which now includes Savills, Prime Place, Strawberry Star, SHG and others. Budgets vary between clients, so does the challenges. We constantly need to be on top of our game and be as creative as possible."
Your work involves travelling around the world. Where do you pull inspiration from?
"My phone is filled with photos of day-to-day design elements. Whether I'm on my way to the office in Soho, snowboarding in the Alps, or sailing around beautiful coasts, I take photos of everything that seems interesting. For example, I was inspired to create ceiling light rafters for a concierge in Wembley after travelling to New Zealand and entering one of the glow worm caves. The light emitted from the glow worms onto the ceilings of the cave, which was reflected in the water below, was very mesmerising. This then transpired into the designs, which feature coloured glass under the rafters.
"So there you have it. Inspiration can be gained from anywhere; you just need to be on the lookout for it."
What has been your favourite project to date?
"My favourite project so far has been the Marketing Suite for Camden Courtyards for Barratt London.  We really took the brief and had a lot of fun with it. Feature walls, unusual materials and tricks of the eye make this space quite different from your traditional marketing suite."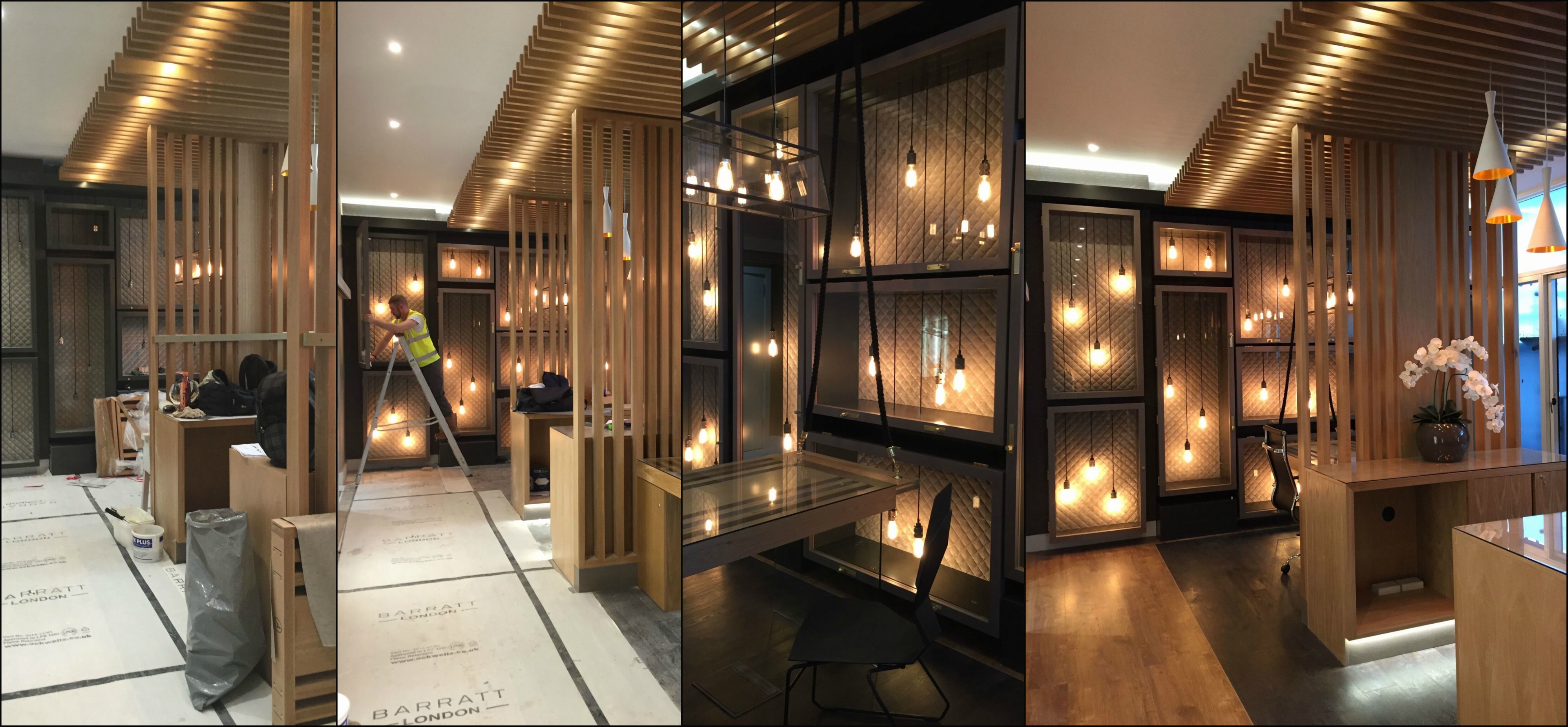 How do your ensure that a branded space is truly bespoke for every client?
"Our office ethos is that we don't have a design style. We like to think of ourselves as a library filled with lots of ideas. So when a client comes with a brief or a challenge, we then rummage through our library and come out with a story fit solely to what you want to see.  It's boring carrying out the same style of work over and over again, which is why we always try and come up with something new and different. This suits our clients, who are mainly developers, as they also want their developments to stand out from the crowd."
Who inspires you in the interior design and architecture worlds?
"Other architects will probably shoot me, but Thomas Heatherwick is someone I find quite inspiring. He's not an architect but he's a bloody good designer and innovator. He loves to push boundaries and be different from the norm with all his designs invoking great thought, which inspires me to never be boring."
What's next for you and Spot This Space?
"We are currently undertaking our largest office fit out in Vauxhall for a company called Strawberry Star. This, along with the penthouse in the same building, will hopefully set a higher benchmark for all our future jobs. With more recognition, clients will keep coming to us with harder challenges, which will lead us to come up with more creative solutions."